Categories
Categories
Brands
Brands
Springbok Tracker Pro Time Domain Reflectometer TDR CATV TDR
Product Description
Condition: New
SPRINGBOK Tracker Pro is a touch screen Time Domain Reflectometer (TDR) that enables remote cable diagnostics as well as live test/work. The intuitive interface and technology allow for more accurate diagnostics to pinpoint cable events and enable speedier return to service.
Introducing the first touch screen TDR in the world. With one touch, save a waveform and have your customers back online in seconds. Diagnose the cable remotely in your truck or back at the office. With a multi-pulse waveform storage, you can work remotely just like you were live on the cable.
Test cable and work live, using Tracker Pro's intuitive interface & state of the art technology to more accurately diagnose & locate multiple events on a cable.
Or work remotely with Springbok's revolutionary new feature: Tracker Store. With one touch, Tracker Pro will cycle through each of its pulse widths, storing the full waveform regardless of what is on screen. This file can be recalled, displayed and studied on the instrument's screen or downloaded (via USB) to a PC. You can now display and manipulate the waveform using Tracker View, allowing you to work from the comfort of your truck or office.
Pulse widths 5, 20, 50, 100, 300, 500 nsec
7″ LCD color touchscreen display (800 x 480)
TrackerStore multi-pulse waveform storage
Store up to 30 waveforms (optional 60 waveforms)
Multiple marking and measurement cursors
Rugged & field tested case
Splash proof USB connection
9.12″ x 7.56″ x 4.37″
3 lbs 10 oz
4200 mAh Nickel-metal-hydride battery
Tracker View
Download saved waveforms from TrackerPro

Name and save waveforms

make comments and notes

Change VOP

Vertical Gain and Range

Step through Pulse Widths

Move cursors

Measure distances & dBRL

Print waveforms & comments
What's Included.
(1) Springbok Tracker Pro – (TDR) METALIC CABLE FAULT LOCATOR
(1) AC Charger
(1) BNC –to- F81 Adapter
(1) Coax F81 Male to Male Jumper
(1) USB Data Cable
(1) Shoulder Strap
(1) Tracker Pro User's Manual, Tracker Pro Quick start Guide, TrackerView (Desktop Software)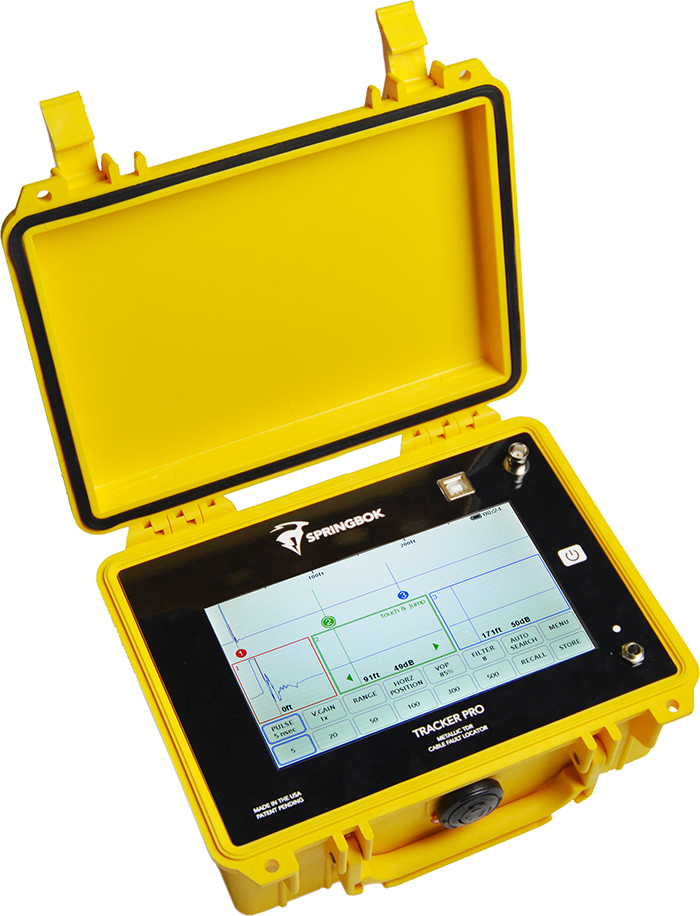 Product Videos
Find Similar Products by Tag
Product Reviews
Find Similar Products by Category
Customers also viewed