Categories
Categories
Brands
Brands
Tempo SideKick T&N 1137-5002 TELCO Test Set Greenlee
Product Description
This sale is for a Tempo Sidekick T&N. These are lightly used testers and may show signs of wear. Cosmetic condition of each tester varies.
What is included:
(1) Tempo Sidekick T&N with test leads
(1) Case with strap
(1) Operational Manual
(1) Suggested Test Procedure (Reference card)
Stock Photo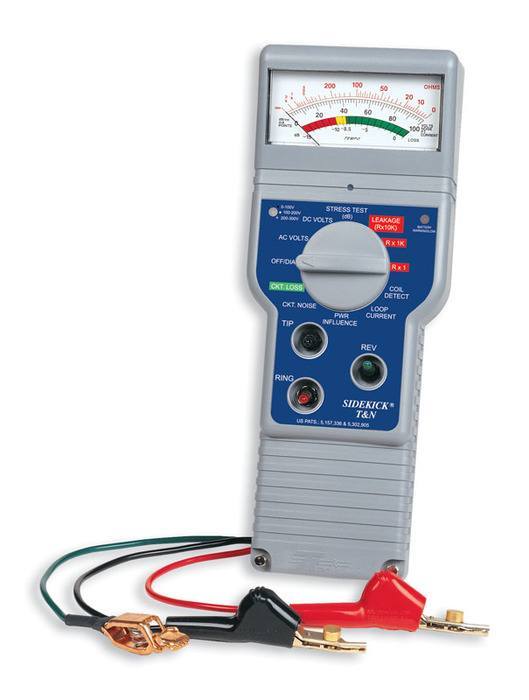 PRODUCT DATA
The new Sidekick T&N combines the functions of the Sidekick 7B plus the features of Transmission and Noise testing. The result is an even more
versatile test set that identifies frequently missed faults as well as tests and qualifies the transmission quality of POTS lines.


| | |
| --- | --- |
| | Additional Features Include: |
| - | Loop Current Testing |
| - | Circuit Loss Testing |
| - | Metallic Noise Testing |
| - | Power influence testing |
| - | Load Coil Detection |
| | |
| | The familiarity of the Sidekick's analog meter and rugged, lightweight design, combined with five new test functions, provide quality loop testing for POTS lines. |
| | |
| | Product Features |
| - | Determines Stressed Noise Susceptibility of Dry and Working Pairs |
| - | Five Transmission and Noise Tests |
| - | Measures Resistance, AC/DC Volts, and Capacitive Kick |
| - | Minimal Drying Effect in All Ranges |
| - | Single Setup for Testing Tip-Ring, Tip-Ground, and Ring-Ground |
| - | Provides Tone for Twisted Pair or Crossed Conductor Identification |
| - | Low Battery Indicator Light |
| - | Field Replaceable Leads |
| - | Soft Case with Adjustable Strand Hook |
| | |
| | Benefits |
| - | Works on Any Twisted Pair Application |
| - | Increases Technician Productivity |
| - | Reduces Repeat Service Calls |
| - | Increased Testing Capabilities |
| - | Reduces Training Time |
| - | Eliminates Service Interruptions |
| - | Provides Quick Return on Investment |
| - | Reduces the Number of Test Sets Required |
Quickly and accurately uncovers intermittent troubles that other test sets can't detect

Enables rapid and accurate testing on copper and cable pairs

Readable in bright sunlight

Advanced cable diagnosis and troubleshooting in a single test set

Industry leading ease of use and operation.

Helps technicians diagnose and troubleshoot problems with twisted pair cable

Install, qualify, and maintain copper and CATV services

Determines the stressed noise susceptibility of dry and working pairs

Measures resistance, AC/DC volts, and capacitive kick

Provides tone for twisted pair or crossed conductor identification

Test Tip-Ring, Tip-Ground, and Ring-Ground

Measures AC/DC Volts, Leakage, resistance, and loop current

Performs circuit loss, circuit noise (metallic noise), and power influence test
| Attribute Name | Attribute Value |
| --- | --- |
| AC Voltage | 0 to 200 VRMS |
| Circuit Loss | -15 to +1 dB |
| Circuit Noise | 0 To 75 dBmC |
| DC Voltage | 0 to 100 volts DC |
| Dimensions | 10.75" x 4.25" x 2.5" |
| Leakage | Rx10K: Reads 0 to 20 M |
| Loop Current | 0 to 100 mA |
| Power | Four AA batteries |
| Power Influence | 50 - 100 dBmC |
| Resistance | Rx1: Reads 0 to 2000 | Rx1K: Reads 0 to 2 M |
| Stress Test | 0 To 82 dBmC |
| Type | T And N Series |
| Operating Temperature | -20°C to +60°C |
| Voltage Measurement | DC Voltage: 0 to 100 volts DC | AC Voltage: 0 to 200 Vrms |
Find Similar Products by Tag
Product Reviews
Find Similar Products by Category
Customers also viewed