Categories
Categories
Brands
Brands
VIAVI ONEEXPERT ONX-630 ONX-CATV TECH PACKAGE 5 ONX-630D31-4285-1012-TP5 ONE EXPERT SWEEP READY METER
VIAVI ONEEXPERT ONX-630 ONX-CATV TECH PACKAGE 5 ONX-630D31-4285-1012-TP5 ONE EXPERT SWEEP READY METER
VIAVI ONEEXPERT ONX-630 ONX-CATV TECH PACKAGE 5 ONX-630D31-4285-1012-TP5 ONE EXPERT SWEEP READY METER
Product Description
STOCK PHOTO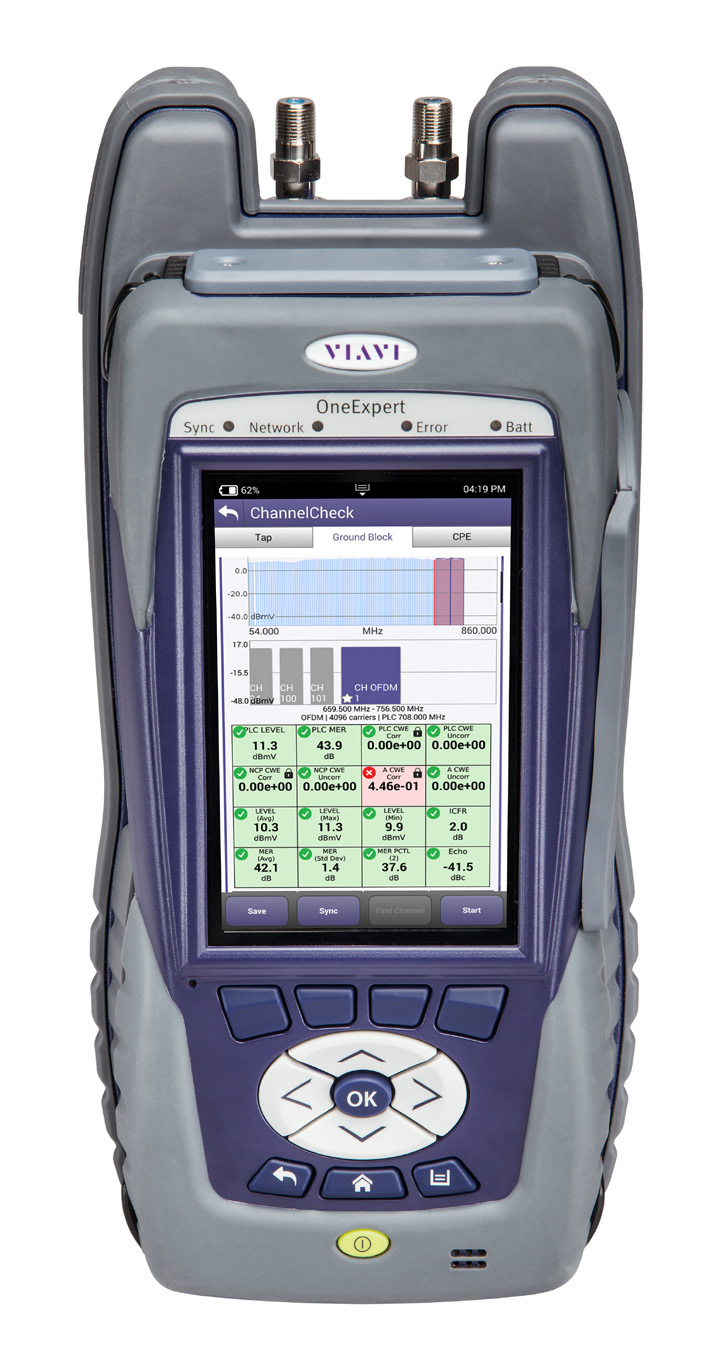 ONX-630 (ONX-630D31-4285-1012-TP5) SWEEP READY. Package details are at the bottom of page.
OneExpert CATV
The OneExpert ONX-630 CATV signal analysis and sweep meter platform makes every technician an expert by verifying
network

performance and making troubleshooting simpler, faster, and more powerful than ever.
The excessive shipping cost is based on the Package being insured for $6,490.00
Maximizing the spectrum efficiency of DOCSIS 3.1® technology requires careful and consistent attention to network maintenance. While the broadband frequency response test in both the forward path (downstream) and the return path (upstream) is a core requirement of any cable network maintenance plan, maintaining cable networks requires more than sweep.
The OneExpert CATV ONX-630 is a powerful meter for maintaining HFC networks, including DOCSIS 3.1 performance analysis, spectrum analyzer, and forward and reverse sweep measurements. The headend/hub rack-mounted SCU-1800 Sweep Control Unit provides downstream sweep to 1.2 GHz and upstream sweep to 204 MHz on up to 16 ports (supports OneExpert CATV ONX-630 sweep).
The ONX-630 works with existing Stealth Digital Analyzer (SDA) rack-mounted sweep gear (SDA-5500 and SDA-5510) located at headend and hub sites. Additionally, OneExpert meters can sweep side-by-side with DSAM-6300 meters. Therefore, major test process/infrastructure modifications are not required when ONX-630s are added to a department's instrument inventory. Moving forward, an advanced sweep transceiver – the SCU-1800 Sweep Control Unit – offers updated, space saving hardware and simple browser configurability.
Viavi Solutions has a long history of integrating the high-level functions and advanced technology necessary for maintaining cable networks with scalable hardware and software platforms. Viavi delivers sweep-meter solutions unequalled in advanced test and measurement performance.
Key Benefits
Simplifies and speeds testing

Find root causes quickly, with one simple, quick automated process

Quick, complete, and simple documentation with StrataSync™

Improve overall technician efficiency with mobile apps and simplified, one-button testing
Key Features
DOCSIS 3.1 measurement, OFDM signal analysis, cable modem ranging, registration, and performance testing

Return sweep up to 204 MHz and forward to 1,218 MHz, compatible with existing SDA/ DSAM sweep gear

DOCSIS in-channel response for return frequency response

Quick Check, a one-button, fast, multi-point tilt/alignment and power level measurement
Applications
Ensure optimal performance in new architecture deployment

Uncover network environmental damage or craft related issues

Reveal response related issues before impacting entire spectrum

Optimize performance to shorten time to revenue for new services

Test return band with higher resolution and non-interference
Fast - Sweep, align, and troubleshoot faster than ever.

• Stealth Sweep™ with integrated tilt/align quickly validates amps and HFC networks faster than any other test.

• Complete a downstream scan including MER/BER in about 60sec.

• AutoChannel™ instantly identifies the channel lineup and eliminates guesswork.
Powerful - Designed to find difficult problems.

• Combined DOCSIS 3.1 and sweep testing validates the complete HFC network.

• Ingress Expert with Hyper Spectrum™ catches difficult return noise problems.

• Expert modes with advanced parallel processing find hidden problems and root causes.

• 40+ years of trusted CATV testing knowledge integrated into one simple device.

Flexible - Ready for your changing network needs.

• The ONX-630's dual diplexer 42/85 or 65/204 with 1.2GHz supports next generation networks.

• A companion fiber scope and power meter support FTTx and fiber deep networks.

• Test gigabit service over DOCSIS, Ethernet, and WiFi.

• The ONX-630 is compatible with DSAM-6300 and SDA-55XX providing seamless transition.

• Common sweep reporting for ONX-630 and DSAM ensures consistency via StrataSync.
Sweep Testing
The OneExpert ONX-630 is backward compatible with SDA-5500 & SDA-5510 sweep transmitters, enabling smooth migration to OneExpert sweep and DOCSIS 3.1 performance analysis capability.
---
This product is StrataSync-enabled
StrataSync is a hosted, cloud-based solution that provides asset, configuration, and test data management for VIAVI instruments and ensures all instruments have the latest software and options installed. StrataSync Core supports the OneExpert platform at no charge. StrataSync Plus is also available for enhanced data management capability.
SALE INCLUDES:
(1) ONX-630 (ONX-630D31-4285-1012-TP5) (Sweep Ready)
(1) CASE WITH SHOULDER STRAP (GLOVE)
(1) AC ADAPTER / CHARGER WITH POWER CORD
(1) IN-VEHICLE DC-DC CHARGER
THIS SALE IS FOR A PREOWNED VIAVI ONX-630 SWEEP READY.
PLEASE VIEW THE DETAILS BELOW TO MAKE SURE THAT IT MEETS YOUR SPECIFICATIONS.
INSTRUMENT MAY SHOW SIGNS OF PREVIOUS USE. PLEASE FEEL FREE TO CONTACT US WITH ANY QUETIONS THAT YOU MAY HAVE.
ONX-630 TECH PACKAGE 5. PART NUMBER: ONX-630D31-4285-1012-TP5 DETAILS BELOW.
ONX-630D31-4285-1012-TP5

ONX Feature Bundle

Feature Matrix

ONX-620

ONX-630

n = Standard with Package.

N/A = Feature not Available for this package.

Optional = Feature or option can be added. (after purchase)

TECH PACKAGE 1

TECH PACKAGE 2

TECH PACKAGE 3

TECH PACKAGE 4

TECH PACKAGE 5

OneCheck

Dashboard with ingress scan, downstream summary, DOCSIS summary, and Session Expert summary

n

n

n

n

n

OneCheck details screens

Ingress scan — full graphic view

n

n

n

n

n

OneCheck downstream

details

Full scan with channel details — level, MER, BER, C/N, Echo, GD, ICFR

n

n

n

n

n

System view (max dB delta, max video delta)

n

n

n

n

n

Favorites

n

n

n

n

n

Tilt

n

n

n

n

n

Smart scan

N/A

N/A

n

n

n

MER graph — all channels

N/A

N/A

n

n

n

BER graph — all channels

N/A

N/A

n

n

n

Off-air ingress detection (downstream ingress under carrier)

n

n

n

n

n

OneCheck

DOCSIS details

Downstream DOCSIS channel scan with channel details — level, MER, BER, C/N, echo, GD, ICFR

n

n

n

n

n

Upstream DOCSIS channel scan with

channel details — TX level, modulation type, ICFR

N/A

n

n

n

n

DOCSIS throughput

N/A

n

n

n

n

DOCSIS packet quality

N/A

n

n

n

n

OneCheck — Session Expert details

Problems detected table

n

n

n

n

n

Suggested actions table

n

n

n

n

n

Ingress comparison between TAP and GB

n

n

n

n

n

Drop analysis between TAP and GB

n

n

n

n

n

Detailed downstream comparison between TAP, GB, and CPE

n

n

n

n

n

Detailed SmartScan comparison between TAP, GB, and CPE

N/A

N/A

n

n

n

Detailed Off-air ingress comparison between TAP, GB and CPE

n

n

n

n

n

Detailed DOCSIS comparison between TAP, GB, and CPE

n

n

n

n

n

Detailed DOCSIS service test comparison between TAP, GB, and CPE

N/A

n

n

n

n
Feature Matrix

ONX-620

ONX-630

n = Standard with Package.

N/A = Feature not Available for this package.

Optional = Feature or option can be added. (after purchase)

TECH PACKAGE 1

TECH PACKAGE 2

TECH PACKAGE 3

TECH PACKAGE 4

TECH PACKAGE 5

ChannelCheck

Full scan with channel details — level, MER, BER, C/N, Echo, GD, ICFR

n

n

n

n

n

DS Spectrum w/ Ingress under the carrier (7-channels wide)

n

n

n

n

n

System view (max dB delta, max video delta)

n

n

n

n

n

Favorites graph (up to 16 Ch)

n

n

n

n

n

Tilt

n

n

n

n

n

DQI over time

n

n

n

n

n

Level over time

N/A

N/A

n

n

n

MER over time

N/A

N/A

n

n

n

BER over time

N/A

N/A

n

n

n

Downstream in-channel response graph

N/A

N/A

n

n

n

SmartScan™

N/A

N/A

n

n

n

Constellation

n

n

n

n

n

DOCSIS 3.1 testing

OFDM signal detection and identification in scan - automatic

Optional

Optional

Optional

n

n

OFDM signal measurement

Optional

Optional

Optional

n

n

OFDM signal MER throughout channel band over time

Optional

Optional

Optional

n

n

OFDM signal level variation

Optional

Optional

Optional

n

n

OFDM ingress under carrier analysis

Optional

Optional

Optional

n

n

PLC detection, lock status, level, MER, CWE

Optional

Optional

Optional

n

n

NCP lock status, CWE

Optional

Optional

Optional

n

n

Profile analysis - lock status, CWE

Optional

Optional

Optional

n

n

Bonding verification, SC-QAM and OFDM

Optional

Optional

Optional

n

n

Throughput testing to 1 Gbps or greater - DOCSIS & Ethernet

Optional

Optional

Optional

n

n
Feature Matrix

ONX-620

ONX-630

n = Standard with Package. N/A = Feature not Available for this package. Optional = Feature or option can be added. (after purchase)

TECH PACKAGE 1

TECH PACKAGE 2

TECH PACKAGE 3

TECH PACKAGE 4

TECH PACKAGE 5

DOCSISCheck

Downstream DOCSIS channel scan with channel details — level, MER, BER, C/N, echo, GD, ICFR

n

n

n

n

n

DQI over time

n

n

n

n

n

Level over time

N/A

N/A

n

n

n

MER over time

N/A

N/A

n

n

n

BER over time with ES/SES

N/A

N/A

n

n

n

Downstream in-channel response graph

N/A

N/A

n

n

n

Upstream DOCSIS channel scan with

channel details — TX level, modulation type, ICFR

n

n

n

n

n

Transmit over time

n

n

n

n

n

DOCSIS upstream in-channel frequency response graph

N/A

N/A

n

n

n

Speed Check – throughput

N/A

n

n

n

n

Packet quality — packet loss, round trip delay, jitter

N/A

n

n

n

n

Ping/trace route

N/A

n

n

n

n

Pass through modem RJ-45 port

N/A

n

n

n

n

Ethernet testing

Ethernet

N/A

n

n

n

n

Speed Check - throughput

N/A

n

n

n

n

Ping/Trace route

N/A

n

n

n

n

FTP/HTTP upload/download

N/A

n

n

n

n

Web browser

n

n

n

n

n

VoIP SIP

N/A

n

n

n

n

VoIP MOS

N/A

Optional

Optional

Optional

Optional

IP video

N/A

Optional

Optional

Optional

Optional

TrueSpeed™

N/A

Optional

Optional

Optional

Optional

WiFi testing

WiFi - 2.4GHz and 5GHz

n

n

n

n

n

n

n

n

n

n

N/A

n

n

n

n

Expert modes

Test point templates, custom limit plans and live/stored measurement comparisons

N/A

N/A

N/A

n

n

Channel Expert

N/A

N/A

N/A

n

n

DOCSIS Expert

N/A

N/A

N/A

n

n

Ingress Expert

Optional

Optional

Optional

n

n

Quick Check Expert

Optional

Optional

Optional

n

n
Feature Matrix

ONX-620

ONX-630

n = Standard with Package.

N/A = Feature not Available for this package.

Optional = Feature or option can be added. (after purchase)

TECH PACKAGE 1

TECH PACKAGE 2

TECH PACKAGE 3

TECH PACKAGE 4

TECH PACKAGE 5

Return signal generator

Transmit up to 8 CW or QAM signals

Optional

Optional

Optional

n

n

Return signal generator with loopback

Transmit and receive up to 8 CW or QAM signals with simultaneous power level measurements

Optional

Optional

Optional

n

n

Sweep testing

Sweepless SweepTM

N/A

N/A

N/A

n

n

Forward sweep

N/A

N/A

N/A

Optional

n

Reverse sweep

N/A

N/A

N/A

Optional

n

Reverse alignment

N/A

N/A

N/A

Optional

n

Mobile app integration

n

n

n

n

n

Bluetooth

n

n

n

n

n

SmartID support

SmartID and SmartID Plus

(SmartID and SmartID Plus not included)

n

n

n

n

n

WiFi Advisor support

WFED-300AC; SmartChannel Wizard

(WFED-300AC not included)

n

n

n

n

n

Optical fiber scope support — P5000i (P5000i is not included)

n

n

n

n

n

Optical power meter support — MP-60, MP-80, FI-60 Fiber identifier

(MP-60, MP-80, FI-60 Fiber identifier not included)

n

n

n

n

n

HomeTDR

Optional

Optional

Optional

Optional

Optional
Warranty Information
Find Similar Products by Tag
Product Reviews
Find Similar Products by Category
Customers also viewed